BADMINTON
Great fun for everyone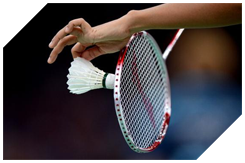 Badminton
is great fun for everyone, book now for courts to hire at flexible times throughout the week! You can play for fun, receive coaching, or if you fancy a competitive edge; play in a league against like-minded opponents. Badminton is sociable
Badminton Coaching Program, RBC Thripunithura
River Bourne Centre associated with Yogendran International badminton academy (YIBA) provides expert Badminton classes for kids and adults. 5 days per week intensive training, 2 day & 3 day classes per week classes and one to one classes are available.
Benefits of Badminton
Badminton is a great activity to increase your overall fitness and it keeps you on your toes so that you improve your speed and hand-eye coordination. It's a fast paced game developing agility, strength, and intelligence. Of course, badminton is also a social activity.
What Should I Wear?
We recommend that you wear non-marking court trainer,and light, comfortable sportswear to maximise flexibility and to ensure that you are kept cool. Don't forget to bring plenty of water to keep you hydrated during your session- you're going to need it!