YOGA
Take care of your body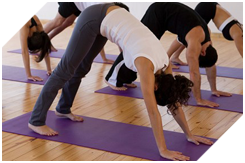 Life is always busy and hectic. Learn to take care of your body by joining the
Yoga
class. You will learn how to relax therefore lowering your stress level and improving your mental focus. Yoga exercise will also improve blood circulation, release tension in your muscles and help you become more flexible. Come and Experience the power of Yoga!
An on-going class for beginners and continuing beginners – everyone welcome! This class includes pranayama (breathing practices), basic asana (postures), vinyasa (flow), tensegrity (gentle anatomical sequences), restorative yoga and meditation. What is practiced each week changes to provide ongoing learning and fun
' Vibrant You' - 7-day yoga crash course for adults ( 90min per day)
Bring back your youthful essence!
Bring back the original brilliance of your skin and mind with Yoga.
'Vibrant You' removes toxins from your body, increases vitality, and enhances elasticity and flexibility of the spine. No more back pain! Be more immune to diseases.
It increases the level of antioxidants in blood and motivates re-generation of muscle tissue and cells, which prevents aging and prolongs your youthfulness.
Other Benefits
It has been helpful for lifestyle diseases such as:
Anxiety and depression
Disturbed sleep or sleeplessness
Gastric problems
Obesity and fatigue
Asthma, diabetes, and high blood pressures
Headaches and allergies
Menstrual complaints
Body stiffness, joints ache and body pain

The program helps to enhance memory and concentration and to maintain high energy throughout the day.
Connect back to the young, vibrant, glowing, happy 'You'. Energize and feel totally alive with 'Vibrant You'!
Kids Yoga 10 day program ( 2 hrs per day) - MID BRAIN ACTIVATION WORKSHOP For children aged 8 – 15 years
Improves children's Performance, Creativity and Academic Excellence by triggering Super Sensory and Extra Sensory Development
Let your child excel and unlock the Code of Smart Learning that result in:
Enhanced IQ and EQ
Strengthening of long term memory
Quick Recalling Ability
Sharper Intuition
Perfect Cognitive abilities
Calmness resulting in Better Sleep
Improved body coordination and agility
Better Anger Management ability
Improved Self Management Capacity
Stimulate Right and Left hemispheres of your brain
Enhance the power of Creativity and Intelligence
Improved Concentration
Ensure Clear Decision making, Innovative Thinking and brain storming
Teen Yoga – AWAKEN YOUR TRUE POTENTIALITY – 10 DAY ( 2hrs per day)
Benefits of Yoga for Teens
Physical Benefits
IStrength - builds strength of muscles and bones
Flexibility - lengthens muscles to increase mobility in the joints
Improved Posture - develops understanding of body mechanics, healthy movement patterns, and ideal postural alignment
Improved Posture - develops understanding of body mechanics, healthy movement patterns, and ideal postural alignment
Ability to Relax - develops the skill of relaxation and awareness
Stability and Balance - provides physical experiences that ask the body to continually re-establish balance, which develops coordination and prevents injury
Equalizes Energy - revitalizes low energy and tempers hyperactivity
Mental Benefits
Stress Management - provides techniques for redirecting thoughts and calming the nervous system
Decision Making - teaches teens to make choices that respect themselves and others
Concentration - develops one's ability to focus through practical disciplines of dharana and dhyana
Healthy Body Image - provides a strengthened internal perspective
Acceptance - cultivates gratitude for what they can do; enables letting go of the tendency to be critical of one's self and judgmental of others
Spiritual Benefits
Compassion - opens us to our greater qualities of kindness, compassion, and nonviolence
Connection - cultivates interconnectedness between ourselves, others, and the natural world around us
Presence - heightens awareness and cultivates emotional connection
Intuition- encourages self-trust by valuing one's internal voice

Explore this golden age with Teen Yoga